Things to do
The beauty of Scilly is that you can do as little or as much as you like when on holiday here
It's not busy by mainland standards by any stretch of the imagination, but there are plenty of things to do and to a certain degree you make your own entertainment – the archipelago's breathtaking natural beauty makes sure of that!
There are no manmade attractions and arcades here, just simple island pleasures such as walking, boating, island-hopping, eating and drinking, exploring and combing on our magnificent beaches – but that all adds up to making sure you do truly have a wonderfully laid-back and stress-free time.
However, if you are the more adventurous type, there are plenty of exhilarating experiences…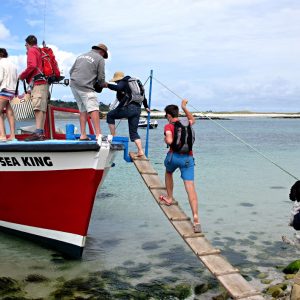 Island to Island
Most people who come to Scilly come to island-hop. Where else in England can you come on holiday and encounter a different island every day? There are five inhabited islands within the Isles of Scilly, some with fewer than 100 inhabitants, and an abundance of uninhabited ones. Which means that you can head off every day to explore the delights and different characteristics of them all.
The tripper boats that take you there from St. Mary's Quay take around 20 minutes and are as colourful as the salty skippers at their helms. Each of the "off islands" (which is how Scillonians describe Bryher, Tresco, St. Martin's and St. Agnes) are so little that it's easy to do one in a day.
Walk your way around them, soak in the wonderful views and way of life, enjoy the terrain and wildlife, stop for a light lunch or yummy cream tea and then get collected again by tripper boat and brought home at the end of the day. Our islands are steeped in local history with striking landmarks and remnants dating back some hundreds, even thousands of years.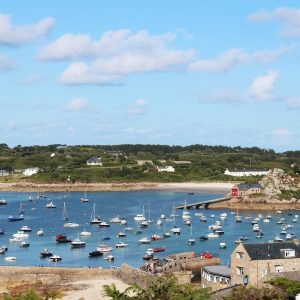 Explore St. Mary's
On the main island of St. Mary's, where Sylina is located, there are more opportunities to explore and be adventurous.
To start with, there are some 30 miles of tracks and paths to walk, and deserted beaches and coves to discover, either with an experienced guide or by yourselves, as well as historic monuments to marvel at, particularly The Garrison (16th Century fortress) and Halangy Village, dating back to the Bronze Age.
Sam, your host, who also happens to own Toots Taxi and Toots Tours, offers a personalised island tour of St. Mary's. It's an excellent way to acquaint yourself with the island, learn a great deal about island life and hear some cracking Scilly stories all at the same time!
For the active crowd there is much to enjoy on island, and in our beautiful waters. You can hire dinghies, kayaks, SUPs and windsurfs etc at the Isles of Scilly Sailing Centre. You can also hire bikes (from right next door), go horse riding, join a sea-swim, attempt coasteering, swim with seals (that's actually on St. Martin's), go shipwreck diving, blue shark fishing, enjoy wildlife safaris, gentle glass-bottomed boat trips, bird-watching and round all that off with a spot of early evening wine-tasting at the local vineyard.
In the evenings if you don't fancy cooking for yourself, there are lots of restaurants, pubs and cafes from which to choose, or you can order dinner in from various catering outlets. You might also want to experience a "supper boat" to St. Agnes or St. Martin's one evening – eating out at one of the off island restaurants or pubs and returning home at sunset. It's magical! Life in Scilly dictates a relaxed dress code on the whole, although some hotel restaurants do request smarter wear in the evenings.
What's on
If you want to time your visit here with a particular event on Scilly, it's worth checking the events calendar on our official Visit Isles of Scilly website, or checking with our Isles of Scilly Tourist Information Centre.
Grocery shopping
There are a number of options for your grocery shopping during your stay at Sylina. Most people head to The Co-operative store in the centre of Hugh Town. By mainland standards, it is small and the choices can be limited, so whilst it's convenient, we'd also encourage you to shop around a bit more locally. It's worth it.
The Farm Deli in Hugh Town has an impressive selection of local Scilly produce including breads, farm cuts and fish, and a fine deli counter of meats, cheeses, home-made quiches, gluten-free options and more.
Griffin's Butcher, just around the corner, has a great range of meats, also local vege as well as an enticing cake counter!
If you want to take the hassle out of your self-catering holiday, then head to Tanglewood Kitchen, behind the Post Office, which sells an award-winning range of ready meals, fresh fish and local shellfish daily and a lovely range of wines and beers including those produced here on Scilly. Alternatively, you can opt for a Pom's Thai Takeaway and Eugene's Fish & Chips, both located behind the Town Hall in Hugh Town.
And of course, you'll be able to pick up lots of local fruit and veg, jams, fudge and more from little island stalls and stores across the islands as you explore.